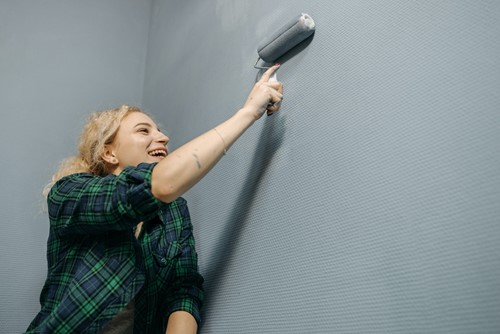 If your walls need an upgrade, consider sprucing them up with a paint DIY project. There are many simple and fun ways you can take a bit of paint and turn it into a unique piece of art or wall design. Here are some ideas for painting DIY projects:
Stencils
Using stencils to paint patterns and pictures is one of the most popular and simple ways to spruce up an empty wall. It's a straightforward way to create unique home decor without paying for more than paint and supplies. All you need to do is find a wall stencil you like and try placing it on your walls in aesthetically pleasing ways. Once you've found the right placement, use your paint DIY skills to add color and interest to your walls.
Stripes
Stripes are timeless and can add fun dimension to any space. Whether you opt for thick or thin stripes, adding them to your walls can create the illusion of higher ceilings and make your furnishings pop. If you want to start small, choose one wall as an accent wall to add stripes. The only tools you need are a ruler or measuring tape, painter's tape and your choice of paint. Set your stripes with tape and add paint to watch the entire room transform.
Sponging
If you prefer a more subtle approach to painting DIY, you can try sponging to add texture to your walls. Sponging is simple to do and doesn't require any kind of pattern or special technique, meaning your walls will be wholly unique. Try selecting a shade just slightly lighter than your current wall shade to add dimension, or opt for a glossy finish of the same color for a subtle texture that changes with the light.