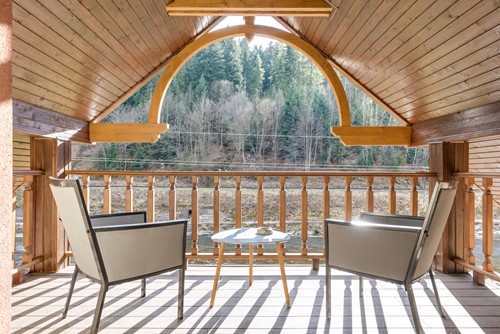 The driving reasons to build a new backyard deck or replace an aging one sometimes differ from other home improvements. One might upgrade a kitchen to take advantage of the latest appliances, flooring materials or to build a convenient center island. Behind every decision to remodel the interior, cost and quality of life considerations tend to win the day.
Backyard decks differ from interior renovations. Having a deck allows you to take in fresh air, sunshine and expand the home's usable square footage. In essence, decks and patios expand the living space in ways newly-minted kitchens cannot. But like other enhancements, homeowners have a wide range of cost and design decisions to make.
A low-budget deck reportedly averages about $15 per square foot, while upscale and innovative designs run upwards of $35 per square foot. However, property owners can recover upwards of 78 percent of the investment after years of leisure enjoyment. Return on investment and enhanced quality of life experience are reasons the following design ideas are trending.
1: Hardwood Lumber
Pressure-treated pine dominates the backyard deck landscape. Its resistance to pest infestations, longevity, and relatively low cost make it a darling among frugal homeowners. This decking material also tends to shrink and turn gray during the first year. Those are reasons pivoting to hardwoods such as Western Red Cedar, Redwood, Mahogany, Tigerwood, and Bamboo products distinguish a deck's appearance. With seasonal maintenance and care, hardwood decks deliver lasting results along with enhanced beauty.
2: Two-Story Decks
People with existing first-floor decks may want to consider taking their experience to the next level - literally. With cement footings and ground-level structural elements in place, you may be able to cost-effectively add another level. Two-story homes may present an opportunity to include upstairs doors directly to the deck that offer long views of the horizon. Another perk of leveling up involves shade. By adding another floor, the design adds a roof for the lower level and a place to secure overhead lights, infrared heating unit and other assets.
3: Stone Facades
Everyday people with a refined decor sensibility sometimes take issue with the seemingly barren wood posts used in outdoor decks. Although many shrug that off as a necessary structural component, stone and brick overlays can enhance the aesthetic value. That's why enlisting the support of a local mason to create stone facades around deck posts remains a hot-trending design element.
4: Multi-Platform Decks
It's not uncommon to think about decks as adhering directly to the house and running horizontally. This standard design generally maximizes space efficiency. But another trending idea involves creating small tiers that organically evolve into intimate gathering spaces.
This design strategy relies on setting floor joists at different heights during the construction phase. The levels can include single step-downs or more pronounced differences that call for traditional stairs and handrails. Although this use of square footage may not necessarily deliver the efficiency of large flat decks, it produces an eye-catching ambiance and naturally places people closer together.
5: Freestanding Decks
Positioning a standalone platform immersed in fragrant gardens away from in-home distractions doubles as a private getaway. More than a few people have embraced the idea that a little space for yourself helps improve mindfulness and reduces stress. Freestanding decks utilize the same structural elements as those connected to houses. Slightly elevated from the ground, many include partial overhead roofs that allow people to enjoy direct sunlight or retreat into the shade.
If these and other deck trends prove anything, it's that a little innovative thinking can improve on commonly held ideas. When planning a new or upgraded deck, consider innovative ideas that reflect your personality and lifestyle.